ANTHONY'S WEEKLY BARTENDING VIDEO
THE IMBIBLE MILLENNIAL OLD FASHIONED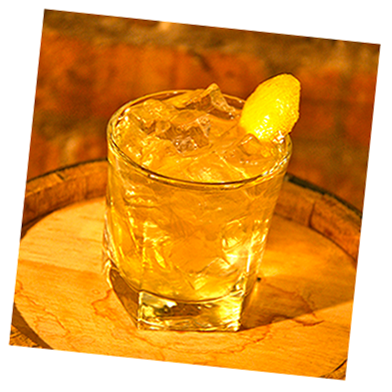 Created in celebration of our 1,000th performance of
"A Spirited History of Drinking"
In a mixing glass half-filled filled with ice, add:

1-1/2 oz. Angel's Envy Bourbon Whiskey
1/2 oz. Drambuie Scotch Liqueur
1/4 oz. Barrow's Intense Ginger Liqueur
Stir well to chill and dilute.
Strain into an old fashioned glass filled with fresh ice, add:
2 dashes Regan's Orange Bitters
Garnish with a fresh lemon peel expressed over the top and slid into the glass.
A SPIRITED HISTORY OF DRINKING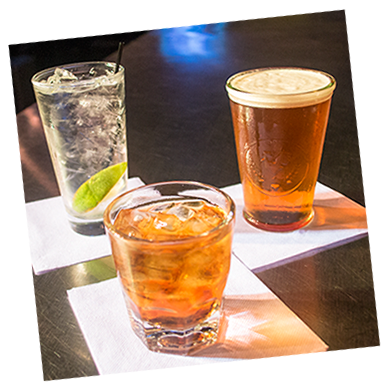 Shandy
Creamsicle Old Fashioned
In a rocks glass filled with ice, add:

2 oz. Bourbon Whiskey
1/4 oz. Monin Vanilla Syrup
2 dashes Regan's Orange Bitters
Stir well to chill and dilute.
Blue Bottle Gin and Tonic
In a tall glass filled with ice, add:

1 oz. Blue Bottle Gin
4 oz. Seagram's Tonic Water
Squeeze fresh Lime Juice
Stir gently, garnish with a lime wedge.
DAY DRINKING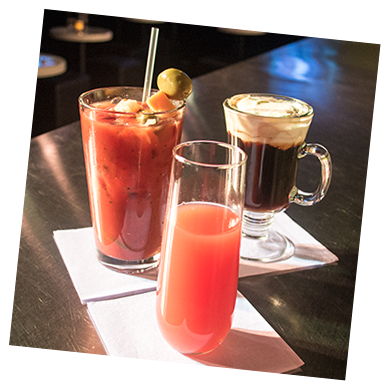 Imbible Bloody Mary
In a pint glass filled with ice, add:

1-1/2 oz. Citrus Vodka
1 squeeze fresh Lemon Wedge
1 dash Salt
1 dash Pepper
1 dash Worcestershire Sauce
1 dash Tabasco Sauce
1 dash Old Bay Seasoning
1 pinch grated Horseradish
4 oz. V8 Juice Blend
Garnish with a cheddar block, pepperoni slice, and pickled vegetables.
Irish Coffee
In an Irish Coffee glass, add:

1-1/2 oz. Tullemore DEW Irish Whisky
1/2 oz. Simple Syrup
4 oz. Coffee
Stir, top with:
1 oz. thickened Heavy Cream
Plum Bellini
In a Champagne flute, add:

2-1/2 oz. Prosecco
2-1/2 oz. Plum Nectar
CHRISTMAS CAROL COCKTAILS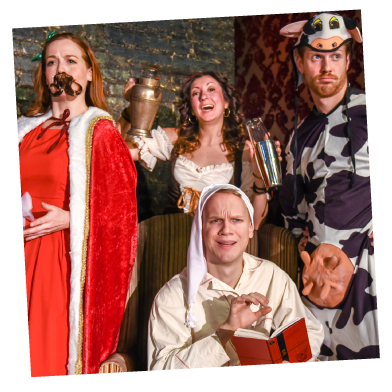 Lager Syllabub
In a shaker tin half-filled with ice, add:

1 oz. Apple Brandy
2 tbsp. Sugar
3 oz. Milk
2 oz. Half and Half
1 oz. fresh Orange Juice
¼ tsp. Vanilla Extract
3 scrapings Lemon Zest
1 sprig fresh Rosemary
Shake until the cream is thickened, add:
4 oz. Coney Island Lager
Swirl gently to incorporate.
Strain into a wide glass.
Garnish with two shavings fresh nutmeg.
Drambuie Drinking Chocolate
In a heated urn, add:

1 gal. hot water or milk
32 oz. Cocoa Powder
16 oz. Chocolate Syrup
Stir well.
In a mug, pour:
1 oz. Drambuie
Fill with drinking chocolate from the urn.
Garnish with 3 mini-marshmallows.
Friesling and Fred Wine Ice Cream
In a bowl, add:

1 pint Coconut Milk
1 pint Riesling or Cabernet Sauvignon Wine
4 oz. Vanilla Simple Syrup
Mix well.
Pour into KitchenAid blender bowl.
Turn blender on low.
Slowly pour in liquid nitrogen.
Mix until frozen and vapor no longer emerges from bowl.
ALWAYS USE PROPER SAFETY EQUIPMENT!